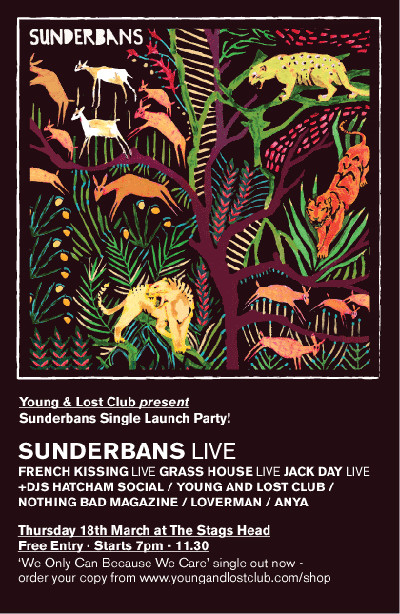 To celebrate the release of our debut single 'We Only Can Because We Care' on Young and Lost Club Records we are holding a launch party at The Stag's Head in Dalston on Thursday 18th March.

This will be an extra special show as it's our first in London since our Tropical Christmas Party in December.

In support, we have the sun-kissed surf of French Kissing, gutter-soaked blues of Grasshouse and the freight-train-folk of Jack Day.

Check them out here…

www.myspace.com/frenchkissingband
www.myspace.com/grasshouseuk
www.myspace.com/jackdaymusic

Hatcham Social's Toby Kidd, Nothing Bad Magazine girls, Gabriel Loverman and YALC play songs through the evening.

It would be truly amazing to see you all there.

Save our souls, save our Sunderbans….